Never miss a mint on
Solana

 !

NFT SOLANA Calendar keeps you updated with the most promising NFTs projects released on Solana.

FREE MINT of Masata NFT Lottery
1 September 2022 | 12:00 AM
UTC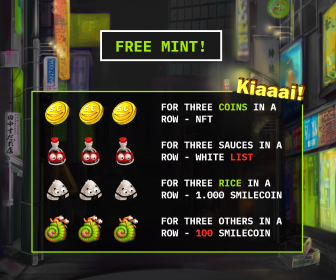 NFT Lottery – Free and sure-win lottery with a huge number of prizes! Come in and mint your awards!
Masata has a mission and he needs your help. Let's conduct his mission and revive ancient recipes from all over the world. People from all over the world didn't taste something similar to the dishes, which Masata can cook for you. Stop eating boring oatmeal every day and join us.
Let's meet our project.
We are an NFT restaurant with unique and incredibly delicious cuisine. Our DAO community chooses the mechanics and development of the NFT project. By winning our NFT you have a huge number of opportunities in our community.
With our NFT you can:
1. Cook from the kitchen live, reviving the ancient and unique recipes of the delicious dishes of your ancestors. People from other countries will be very interested to learn about something unusual and tasty!
2. Play at COOK2EARN Masata, earning a SMILECOIN with which you can order any food you like from the NFT Restaurant SMILEFOOD. COOK2EARN is a new and unique direction of the games. Here you can cook your favorite dishes and earn the best cryptocurrency SMILECOIN. SMILECOIN is a new, stable cryptocurrency with protection from whales that cannot be manipulated. The coin will always grow in value and become the best investment for you.
3. Get discounts on food from SMILEFOOD, which will work around the world, in every corner of the planet where you are.
4. Participate in special gaming events, in which you do absolutely anything you want, winning cool prizes and our NFT. In our events, you can: draw, sing, animate, invent your story, voice Masata's story, cook your unique dishes, and much more.
Invite your friends to participate in our project, the more friends you invite, the more chance you have to win NFT.
Join our project, manage and enjoy new unusual dishes you didn't know about. Unique history, development, and fun await you at our place.
Discord: https://discord.gg/masatadao
Mint: 0.00001 SOL
Supply: 7777
Twitter: @MasataClub
Website: https://masata.club/